WELCOME
For 6 years, the Boise Golf Show has grown to be the largest consumer golf show in Idaho. Last year's show saw a 2% increase with over 5,663 golfers visit the show, and we're looking forward to 2020 being even better!
Vision Marketing is know for producing consumer shows that are successful for both the consumer and the exhibitor. We welcome you to the 2020 Boise Golf Show!
The show is is a kick-off to the Boise region golf season.  We provide amazing deals and products, free golf for paid admission, free bonus golf offers for online purchase of tickets, a VIP night, fun interactive games, a ton of give-a-ways and prizes that create the magic sauce of the Boise Golf Show.
With our sponsors, partners, participating golf courses with free and bonus offers, courses offering show only deals, manufacturers, retailers and our non-profits everyone that comes through our door has a great experience.
Location
Expo Idaho, 5610 Glenwood Ave, Boise, ID 83714
*NEW* The show is located in the Center hall of the Expo building.
CLICK HERE

 for Exhibitor Driving Directions.

Parking is available behind the Expo building during the show.  Make sure and pick up a parking pass when checking into the show.
Show Hours
February 7-9, 2020
Friday 5PM-8PM
Saturday 9AM – 5PM
Sunday 10AM – 4PM
Load In | Load Out Times
Load In: Friday 10AM-5PM
*must contact show office for any other move in times.
Load Out: Sunday 4PM
Each Booth Includes
Piped and draped 10 x 10 booth
1-6′ Table & 2 chairs
Wireless
4 wristbands
Green & White drapes
The facility is not carpeted. You may add carpet & pad with your booth contract. If you did not order carpet with your booth contract you must contact the show office and order 2 weeks prior to the show. The show does not provide electrical, you will need to also contact the office 2 weeks prior to order electrical.
Exhibitor ID wristbands
CLICK HERE for exhibitor pass list. Send to office by February 1st.
Exhibitors receive up to 4 passes per booth unless other arrangements have been made with the show office.  All exhibitors must turn in an exhibitor list in advance of the show for passes to work the booth. Additional passes are available at $5/each.
Please email the list to our office by February 1st  Info@boiseolfshow.com
**Picking up passes day of show: 
Passes will be at will call 30 minutes before show at the ticket booth in front of the show.  You will need to be at WILL CALL early to obtain your pass if you have not obtained it earlier when setting up your booth.  We will not be able to let anyone into the front gate without a pass to work their booth. Plan your time wisely for the WILL CALL line to obtain your pass if you are working the show opening.
Boise Golf Show Marketing Opportunities
Exhibitor Emails:
For an additional fee we can send out a stand-alone email for your company. Contact us if interested.
Entry Handouts
If you would like to be included in our show entry handouts that we give to attendees as they come through the door contact the show office.
Logo
Please consider using our logo to promote yourself being at the show.
CLICK HERE for a logo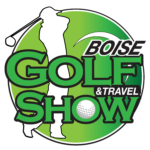 Digital Coupon
Please use the $2 off coupon at the link below to email, post on social media, etc.
We can personalize a coupon with your logo, business and a code for your business to track redemptions – just email our office and we can have that done.
CLICK HERE for a coupon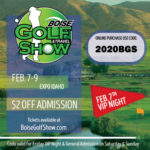 Electrical, WiFi
You must contract with us directly to order electrical. It is not available the day of move in.
Basic WiFi is free and perfect for running most charge card services. Many vendors use their cell phones for charge card operations.
Food & Alcohol sampling
There is no fee for sampling as long as you have prior approval from the show office.
To serve alcohol at your booth you must contact the show office.  There is a process and are permissions that must be obtained.